MacJournal 6.0.6
07.10.2012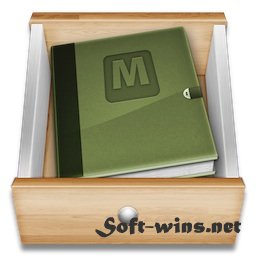 MacJournal 6.0.2 — приложения для ведения дневника
При помощи MacJournal любители "дневников" могут без спешки запечатлевать свои мысли и наблюдения на виртуальных страницах редактора, позволяет пользователям добавлять любое содержимое PDF-файлов, QuickTime фильмов, форматировать текст, вставлять фотографии, а теперь и аудиозаписи. После этого свои записи вы можете опубликовать на ведущих порталах, включая LiveJournal (защита паролем и AES-256 шифрование), Blogger, WorldPress, .Mac, и многие другие или в своем блоге на MacJournal (или записи видео с iSight) в любой из популярных сервисов блогов, в том числе MobileMe. Приложение поддерживает 256-битное шифрование, документы форматов MS Word, RTF и HTML, имеет мощную поисковую систему.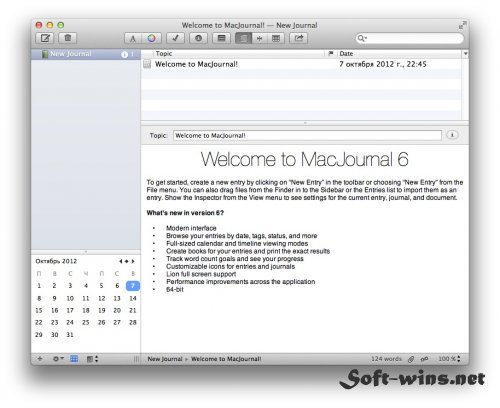 Особенности программы:
Capture life and seize every moment.
A special birthday. A graduation. A child's first word. A gathering taking place far away from home. Life is filled with events. Some are happy, some sad, some are utterly life-changing. Don't let these moments fade – keep them all alive in MacJournal.
We've made it easy for you.
We've created and designed MacJournal, the world's most popular journaling application for the Mac, so that you can start writing and express yourself the moment you launch it. Easily create a journal – for your dreams, your family or a special time of life – anything. Then, take the plunge and write your entry. It can be your first thoughts of the day, a summary of a good book or just to unload from the week. With MacJournal, the only limitation is the one you set for yourself.
Life is more than just words!
There's color, sound and imagery and you can put all of it into your journals with MacJournal. A Media Browser is included which allows you to select a favorite song from iTunes, a photo from your Pictures library – even a YouTube video – and add it to an entry. Your journals will be as rich with sight and sound as the event itself.
The other cool stuff.
MacJournal is packed with so many features and enhancements that you can turn it into your own personal writing playground. Select one of the many icons included to mark your entries and journals or use one of your own. Add a mood – are you happy or just so-so? Sort your journals by Topic, Date, Mood, Content Size and more. If you're the business type, you can use the Statistics menu to view Words, Characters and Lines in an entry. If you like a disciplined approach to your journal keeping, set aside time every day to write and use the Timer to monitor yourself. When you want to see just how prolific a writer you are, select the Timeline Mode to view your daily writing activity chronologically, or the Calendar Mode to see your entries by month and year. There's also a Full Screen Mode to give you a full writing landscape for all your thoughts choosing your own color background and your own color of type. Let your writing canvas be as unique as the words that will go on it.
If you like an audience…or not.
You can keep your world private or, like so many do, share your thoughts and opinions or your entire life. Your MacJournal entries can be published to any of the popular blogging services like Blogger, WordPress, LiveJournal, Tumblr and more. But, if you want to keep your thoughts away from prying eyes – don't worry, MacJournal is equipped with two-level security – password protection and AES-256 encryption. Extroverted or introverted. Open or private. Just pick the way that's right for you.
Что нового в версии 6.0:

Added a new Timeline View Mode showing a visual timeline of entries in any or all journals
Added a Calendar View Mode that shows entries (and their titles) from any or all journals
Added sidebar Navigation Modes, that allow you to display entries in your sidebar organized by Date, Tags, Priority, Status, Mood, Rating or Label
Added support for Posterous blogs
Added support for Tumblr blogs
Added support for uploading images to Imgur and Dropbox
Added a Trash where deleted entries go instead of being deleted right away
Added a Books feature for creating books specially formatted for publishing (online ordering of hard copy versions of your book will be available in a forthcoming update)
Added word count goals and progress tracking
Added geolocation to new and existing entries
Added custom icons for entries and journals (choose from a built-in list or use your own file)
Added a timer/stopwatch
Added zooming support for images and PDF files
Added "New entry from Web Page"
Added support to turn web archives into editable rich text files using the "Make Rich Text" menu item
Added a way to edit textual entries in another application from the Edit menu
Added a way to insert a picture taken directly from iSight
Added Blockquote toolbar item
Added Mood field for entries
Added Due Date for entries
Added a "Link" field for entries
Added browser window for backups with the ability to restore selected entries or all data
Added simple mbox exporting
Added EPub exporting
Added support for import droplets for non-main documents
Added support for Lion full screen, and renamed the existing Full Screen feature to Focused Editing
Adding importing of Web Archives by dragging a URL into the sidebar
Added automatic Picasa configuration for uploading images when auto-configuring a blogger.com blog
Redesigned the Info Bar to allow for customizing field layouts
Redesigned the Inspector to show only one section at a time, allowing more information to be in each section, such as the various dates for Journals
Added support for tags and annotation in HTML exporting
Added a bunch of easy links to sign up for free blogs when setting up a blog
Added support for copy and paste of whole entries or journals between documents
Added "Back Up" menu item to the File menu
Added an Image Properties window in the Format->Text menu for controlling image sizes
Before synchronizing a mobile device, a backup is also made of the remote device contents
Re-implemented encryption support to keep everything in memory and avoid any decrypted content hitting the hard disk
It's just plain fun.
With all the features in MacJournal, you will find that starting and keeping a journal for yourself personally, for school or business, can be as fun and entertaining as it is serious. Happy journaling. …Seriously!
Разработчик:
Вернуться на предыдущую страницу
Похожие новости