На данный момент мы не работаем, когда начнём непонятно.
У нас не работает Батут - будем ремонтировать...

«Не выходи из комнаты -
не совершай ошибку!
Зачем ты купил себе Mac???
Если ты куришь Шипку...».

Иосиф Бродский навеял
Final Cut Pro 10.4.5
18.01.2019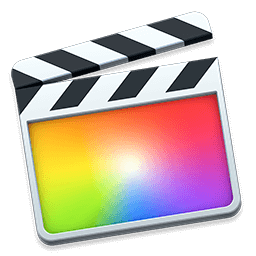 Final Cut Pro X включает основные функции аудиомонтажа и цветокоррекции из Final Cut Studio, так что теперь на всех этапах пост-продакшна можно использовать одно приложение.
В основе Final Cut Pro X лежит гибкая временная шкала Magnetic Timeline, предлагающая новый подход к редактированию видео без дорожек с возможностью добавлять и организовывать клипы так, как удобно автору, в то время как другие клипы тут же пропадают с экрана. Автор может использовать функцию Clip Connections для склейки основных клипов с другими элементами, такими как титры и звуковые эффекты, сохраняя идеальную синхронизацию всех элементов независимо от их передвижения. Профессиональный видеоредактор от Apple получил поддержку всех аппаратных преимуществ самого быстрого из когда-либо выпускавшихся Mac, работу с 4K-мониторами через порты Thunderbolt 2 и HDMI, а также ряд новых функций, разнообразные улучшения производительности и стабильности.
Revolutionary Video Editing 
• The Magnetic Timeline 2 uses advanced metadata for faster, easier editing than with traditional tracks 
• Enhanced Timeline Index lets you drag and drop audio roles to rearrange the layout of your timeline 
• Use Clip Connections to attach B-roll, sound effects, and music to the timeline 
• Reduce clutter by grouping clips into a Compound Clip 
• Cycle through different shots, graphics, or effects at one place in the timeline with Auditions 
• Edit multicamera projects with automatic syncing based on audio waveforms and support for up to 64 camera angles 
• Import and edit 360° equirectangular video in a wide range of formats and frame sizes 
Powerful Media Organization 
• Organize your work within libraries for efficient media management and collaboration 
• Content Auto-Analysis captures camera metadata and analyzes shots in the background 
• Create and apply custom keywords or favorites on the fly as you select clip ranges 
• Smart Collections dynamically organize content for you to quickly find any shot in a few clicks 
Incredible Performance 
• Final Cut Pro uses all the GPUs in your Mac for superior real-time playback performance and fast background rendering 
• 64-bit architecture uses all the RAM in your system for larger projects and richer effects 
• Background processing lets you keep working without interruption 
• Work natively with a broad range of formats including ProRes, RED, XAVC, AVCHD, H.264 from DSLRs, and more 
Compelling, Customizable Effects 
• Beautifully animated, easily customizable 2D and 3D titles 
• Change the look of titles, transitions, and effects using intuitive controls 
• Choose from an extensive ecosystem of third-party FxPlug plug-ins with custom interfaces 
Integrated Audio Editing 
• Assign roles — including dialogue, music, effects, and custom choices — during import to easily track and organize your project 
• Expand and edit multichannel audio files directly in the timeline 
• Let Final Cut Pro repair audio problems such as hum, excessive background noise, and more 
• Sync DSLR video with separate audio in a single step with instant audio waveform matching 
Intuitive Color Grading 
• Import, edit, and deliver video in standard color spaces, or in wide Rec. 2020 color space 
• Improve the look of any clip with one-click Balance Color 
• Manipulate color, saturation, and exposure with the Color Board 
• Fine tune a specific color or area of the screen using keying and masks 
• Powerful color wheels and curves for precise adjustments with keying and masks 
One-Step, Optimized Output 
• Incredibly fast export for playback on Apple devices and upload to websites such as Vimeo, YouTube, and Facebook 
• Use themed menus to author and burn a DVD or Blu-ray disc 
• Export audio stems and multiple versions of a finished video using roles metadata 
• Import and export XML for third-party workflows like color grading and sound mixing 
System Requirements: macOS 10.12.4 or later, 4GB of RAM (8GB recommended for 4K editing, 3D titles, and 360° video editing), OpenCL-capable GPU graphics card or Intel HD Graphics 3000 or later, 256MB of VRAM (1GB recommended for 4K editing, 3D titles, and 360° video editing), 4GB of available disk space. 
Some features require Internet access; fees may apply. Blu-ray recorder required for burning Blu-ray discs. Video output to VR headset requires Mac computer with discrete graphics running macOS High Sierra. 27-inch iMac with Radeon Pro 580 graphics recommended. HEVC and HEIF support require macOS High Sierra.
Что нового:
Version 10.4.5
Improves performance when generating waveforms for clips with no audio channels
Improves stability when sending a project to Compressor using the keyboard shortcut Shift-Command-E
Improves stability when pasting Arabic or Hebrew text into a title
Improves stability when switching tabs in the Timeline Index
Version 10.4.4
Workflow extensions
Extend the capabilities of Final Cut Pro with third-party extensions that open directly within the app interface
Drag and drop clips between the extension window, browser, and timeline
Connect to existing third-party accounts to access projects, download media, and purchase content
Deep integration allows extensions to control timeline playback, navigation, clip markers, and more 
Workflow extensions include tools for collaboration (Frame.io), stock media (Shutterstock), and asset management (CatDV)
Batch share
Export and transcode multiple clips in the browser — with or without a camera LUT — for fast turnaround of dailies and other reviews
Select and export multiple projects
Combine batch sharing with bundles to encode multiple files to multiple formats in one step
Monitor export progress in the background tasks window
Video noise reduction
Apply the high-quality, drag-and-drop noise reduction effect to reduce grain and video noise
Use simple controls to quickly adjust the look and amount of noise reduction
Easily change processing order by dragging the noise reduction effect in the inspector
The viewer shows the noise reduction effect when paused and disables the effect when skimming for optimal performance
Apply 360° noise reduction to 360° video clips while preserving a flawless seam
Timecode window
View project and source timecode in one or more floating timecode windows
Resize the timecode window and drag any one to a second screen
Choose to display clip names and role names
Color coding in the timecode window matches the colors of roles in the timeline
Comparison Viewer
Open the Comparison Viewer to reference other frames for consistent color grading across your project
Quickly select the previous or next clip in the timeline as your reference frame
Save any image to the frame browser to reference it later in the Comparison Viewer
Tiny Planet
Select the Tiny Planet mapping option when adding 360º video to a non-360° project to create interesting spherical looks
Use the roll and tilt parameters to wrap your tiny planet effect into an infinite cylinder
Adjust the pan parameter to move your subject horizontally within the tiny planet
Animate the field of view to transition from a close up to a satellite view flying high above your footage 
Give 360° titles and generators a powerfully warped look by applying the Tiny Planet mapping option
Other new features
View, edit, and deliver closed captions in the SRT format, which is used by a wide range of websites including Facebook
Choose to burn closed captions into your video to ensure they appear at all times during playback
When dragging in the timeline to select a secondary storyline, you can now select individual clips or the entire secondary storyline
Instantly turn any photo or video into a comic book illustration using Comic filter then refine the comic book look with simple controls to adjust ink edges, fill, and smoothness
Снимки экрана:
Версия:

Final Cut Pro 10.4.5

Разработчик:

Apple Inc.

Системные требования:

macOS 10.13.2 or later, 64-bit processor

Язык интерфейса:

English, Chinese, French, German, Japanese, Spanish

Размер:

3.02 GB
Вернуться на предыдущую страницу
Похожие новости
Теги
Напоминаем на каждой странице нашего сайта:

ФБК (Фонд Борьбы с Коррупцией) - является нежелательной организацией в России.
"когда выйдет закон о нежелательном упоминании нежелательных организаций - мы будем предупреждать Вас о том, что это нежелательное упоминание, об упоминании нежелательной организации в России. Если выйдет закон о нежелательном упоминании ранее опубликованных нежелательных упоминаниях - мы будем Вам сообщать и об этих упоминаниях. Если у Вас проблемы с упоминаниями, съешьте Рафаэлку, если не помогло - бегом к эндокринологу, избыточный сахар убивает клетки головного мозга. Если эндокринолога нет или запись к нему на месяц вперёд, попробуйте узнать остался ли в вашем населённом пункте хотя бы один Анатомический Театр."