Bookends 13.2
18.02.2019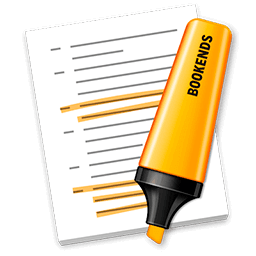 Bookends - мощное приложение, которое представляет собой полнофункциональную и экономически выгодную, библиографическую, справочно-информационную систему для студентов и профессионалов. Доступ к данным приложения можно получить из программ: Mellel, Nisus Writer Pro, MS Word (включая MS Word 2011), а так же Apple Pages и OpenOffice.
Bookends позволяет сканировать существующие файлы и автоматически генерировать готовые рукописи в нужном библиографическом формате. Приложение позволяет обмениваться ссылками через Интернет с кем угодно и на любой платформе. 
Грамотно организован поиск и импорт ссылок из следующих источников:
EndNote
PubMed
Web of Science
JSTOR
Google Scholar
Amazon
Library of Congress
arXiv
и сотни других источников в Интернете.
Поддерживает синхронизацию библиотеки с Bookends On Tap на вашем iPad, iPhone, или iPod touch
Что нового:
Version 13.0.0:
Bookends is a 64-bit application
Bookends requires OS X 10.9 Mavericks or later
The longstanding problem of improper rendering of large PDFs has been resolved
Updated database engine
Import references and PDFs with annotations from Papers 3
PDF quick links
Double-clicking on a reference opens the lower PDF display pane and, if the reference has a PDF, creates a quick link
Bookends remembers PDF scroll positions
Toggle continuous PDF highlighting
Fresh PDF annotations are saved before opening the PDF in another application
PDF underline annotations can be selected with a click and removed with the Delete key
Work with PDFs in full screen mode
Double-click on the PDF proxy icon in the PDF viewer to open it in your default PDF reader
Bookends will use the starting page entered for the reference to calculate the correct page for a notecard
Get PDF from Internet is improved
Automated downloading of PDFs works with BioMed Central (BMC)-series, Sage, and Elsevier ScienceDirect journals
Improved format catalogs
Much improved automated PubMed search
New AppleEvent for creating a new group and (optionally) populating it with references
New AppleEvent for getting the name and paths of attachments
Ad hoc suppression of number styles in citations
You can scan Pages documents stored in iCloud
ASCII-only characters in attachment names generated by Bookends
Add tags to metatags while viewing the tag cloud
When scanning, Bookends will recognize BibTeX citations in the form footcite{key}
Improved removal of accents and non-ASCII characters from BibTeX keys Bookends generates
Smarter Global Change -> Change Field
Faster transfer of PDFs from Bookends for iOS to Bookends for macOS via wi-fi
Automatically attach PDFs to matching references when attaching more than one PDF
Improved Links Inspector
You can set a reference's color label and attachment names via the SFLD AppleEvent
Output of references as unstyled text via an AppleScript (the GUID AppleEvent) is faster
When autofilling from CrossRef, the full journal title will be imported if available
Importing from the watch folder will autofill metadata if a JSTOR stable URL is found in the PDF
Double clicking on a reference in the library window will open the edit pane or the standalone reference editing window
Use Live Search to search by Unique ID
More informative window titles for standalone reference editing windows
Bookends sets the default import option to PubMed when you import a .nbib file
Selected rows in lists are more readable when the list does not have the focus
Help -> Read Me had been changed to Help -> Release Notes
The Society Bib Lit glossary has been updated to the SBL Handbook of Style, 2nd ed (2014)
Bug fixes
Снимки экрана:
Версия:

Bookends 13.2

Разработчик:

Sonny Software

Системные требования:

OS X 10.9 или более поздняя версия, 64-разрядный процессор

Язык интерфейса:

Английский

Размер:

50.01 MB
Вернуться на предыдущую страницу
Похожие новости