Keyboard Maestro 8.2.4
13.08.2018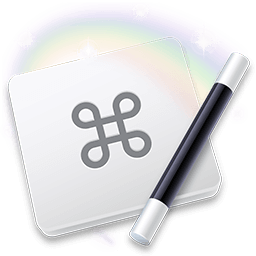 Keyboard Maestro - мультифункциональная утилита, которая может создавать макросы, для автоматицации каких-либо повторяющихся действий, вызываемых с помощью клавиатурных сочетаний, для приложений, окон, документов, буфера обмена и т.д.
Особенности программы:
назначение быстрых клавиш для запуска макросов
управление окнами
управление iTunes
управление системными событиями
управление буфером обмена
запись действий в реальном времени
симуляция нажатий клавиш
запуск AppleScript или shell-скриптов
запуск заставки
запуск Automator-последовательностей
переход в режим сна, выключение или перезагрузка компьютера
нажатие кнопок
переключение на предыдущее и следующее приложение
и многое, многое другое
Что нового:
Version 8.0:
More Help
New Assistance system solves problems with triggering macros, and enhanced search in the Helm menu takes you straight to the documentation.
Machine Learning
Keyboard Maestro learns which actions, tokens, functions or macros you wish to trigger or select by name to allow you to select them more quickly.
Enhanced MID
I
New comprehensive MIDI support allows triggering by Control Change, SysEx or HUI protocol packets. Send MIDI packets in any format, including calculated values.
More Macro Triggers
Trigger your macros with gestures, remotely from across the net, when you plug in headphones, or after your Mac is idle. Use the Cron trigger to trigger at calendar times.
Touch Bar
Basic Touch Bar support in the editor, Conflict Palettes can optionally appear in the Touch Bar, and a specific action to get a selection from the Touch Bar.
New Input Actions
Prompt for a list selection, a file or folder, a selection from the Touch Bar or from a set of macros.
Send SMS or iMessages
Use the new Send SMS and Send iMessage actions to send messages to yourself or others in your contacts list.
Get URL
Download text or images from remote web sites as part of your macro automation, or trigger remote activities or remote macros.
Dragging
Drag Macros and Macro Groups, as well as files, into action lists to create actions like Open File or Enable Macro easily.
Editor AppleScript Support
The editor now has full OSA (Open Scripting Architecture) support for accessing and modifying Macro Groups, Macros and actions, opening up whole new forms of meta-programming.
Warning System
Detect common mistakes in actions (eg Open File on an Application, or String matching that looks like a regex) and alert you.
Field Kind Indicator
A new badge on text fields indicates what kind of text it expects (tokens, variables, or calculations).
XPath Support
The web browser actions now support selecting items using XPath, allowing control of even more web pages.
Front Browser Actions
Target browser actions at the most recently front instance of Safari or Google Chrome (other browsers lack the necessary AppleScript support).
Hide Disabled Groups
Reduce clutter in the editor by hiding disabled groups as a single group item - double click to reveal all the disabled groups.
Engroup/Degroup
Enclose a set of actions within a newly created group (Group, Repeat, While, etc) action. Or remove them from the group action.
Shiny Clipboard Switcher
New modern combined appearance for Clipboard History and Named Clipboard switcher window, supporting dragging and showing additional information.
Clipboard Filters
Macros triggered directly from the clipboard switcher allow you to apply arbitrary transformations to clipboard history items.
Dictionaries
Use permanently saved dictionaries (hash tables) to store and lookup structured data. Iterate through dictionaries and keys with full AppleScript support.
Local Variables
New support for macro and execution-instance local variables ensures seamless control when running multiple simultaneous macros without conflicts between them.
Large Text
New text size options allow increased text size across the editor and clipboard switchers for improved accessibility.
Excluded Applications
Exclude applications from the clipboard system, so applications with sensitive or large clipboards are not automatically recorded.
Insert Tokens by Name
Press a command key, and then type in part of the name of a token to see a list of possibilities. Same for actions, functions and variables. With so many available this can save a lot of time.
So Much More
With over a hundred new features or improvements, you're sure to find exciting new possibilities for your work.
Снимки экрана:
Версия:

Keyboard Maestro 8.2.4

Разработчик:

Stairways Software Pty Ltd.

Системные требования:

OS X 10.10 или более поздняя версия, 64-разрядный процессор

Язык интерфейса:

Английский

Размер:

26.18 MB
Вернуться на предыдущую страницу
Похожие новости
Теги