Network Radar 2.6.1 - управление и настройка сетевых устройств
02.02.2019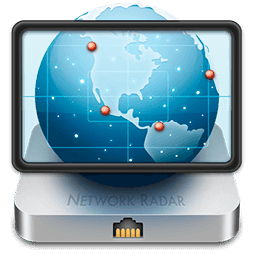 Network Radar предоставляет Вам информацию о сети к которой подключен ваш Mac . Network Radar показывает устройства, подключенные к вашей локальной сети, компьютер или маршрутизатор, а также их имя, IP и поставщика. Network Radar представляет собой простой в использовании инструмент, который позволит вам получить детальную информацию о сетевых устройствах.
Основные характеристики:
Сканирование сети и получать подробную информацию о сетевых устройств (см. ниже)
Полезные сетевые утилиты (см. ниже)
Используйте функцию мониторинга и получить уведомление, когда достижимость изменяется устройств
Просто подключите к устройству с помощью двойного щелчка по списку (Быстрое подключение)
Назначьте собственные имена и выбрать из предусмотренных иконок или импортировать собственные иконки
Используйте простую систему правил / Действия для автоматической обработки устройств
Сканирование сети интерфейс в, той или иной подсети или диапазон IP-адресов
Экспорт сканирование для CSV, TXT или PDF
и многое другое ...
Информация об устройстве:
IP address
MAC address
Vendor name (i.e. "Apple, Inc." or "DELL")
Domain name (DNS, Reverse lookup)
Bonjour name
NetBIOS name
Services (open ports)
Response time (ping time)
Mac model identifier (i.e. "iMac9,1")
Icon (automatically for Macs with model identifier)
Special function (i.e. host is standard gateway)
Reachability status
SSH / Telnet username, port and password
Device Log
Notes
Включены сетевые утилиты:
Remote shutdown/restart/sleep of other Macs
Ping
Portscan
SSH
Telnet
Wake On LAN
Whois
HTTP, HTTPS, AFP, SMB, FTP, VNC, RDP, SSH, TELNET for Quick Connect
Поддерживаемые сетевые интерфейсы:
Built-in WiFi
Built-in Ethernet
Что нового:
Version 2.6
New Features
New Network section with all Networks and its Scans.
New Services section that gives you an overview of all Services found and its Hosts.
A short description has been added to every Service.
More Log messages have been added for new Hosts. I.e. it is now being logged if the Host has been found in the ARP or DNS cache.
Options have been added to chose what is being displayed in the last row of prints and exported PDFs.
Prints and exported PDFs now include the response time of each Host.
Subnet Mask column has been added to the Networks list.
The average response time of all Hosts of a Scan has been added to the Scans info.
You can now see the log messages of all Hosts of a Scan in the Scan info.
You can now stop a Scan from refreshing by clicking the X button next to its name in the sidebar.
A refresh of a Scan in monitoring mode can now be stopped without stopping the monitoring.
From now on the timeout you set in the preferences is the default value used by every Scan unless you change the timeout in the Scan's settings.
Minor interface improvements for macOS Mojave's Dark Mode.
More and improved help text here and there.
Some new image rules have been added.
The sort order of interfaces for new Custom Scans has been improved.
The status type 'uncertain' has been renamed to 'unknown'.
You can no longer update your database form network Radar version 1.x to the new database type in version 2.x.
Bug Fixes
Some users were unable to choose a custom host image or add new ones.
The app could crash when selecting a custom host image.
'Services' was missing in the CSV export options.
Although a Scan was deleted, its Hosts could still appear in Smart Folders and the All Hosts section until the app was restarted.
In some cases the ping interval was ignored and the progress indicator was wrong.
Refreshing a single Host did not always work via the File menu.
Refreshing a single Host did not work outside of its Scan.
Some Hosts appeared twice in the list.
Some properties were cut off in the CSV export window.
Some rules that checked the status of a Host did not work in the German localisation.
Switching between different sections could crash the app for some users.
The Quick Scan button did not work with certain types of VPN.
The value of the the end or start IP of a Custom Scan was not validated and could result in Scans that would not refresh.
There were some GUI issues in the Smart Folder edit window.
When trying to activate the app before completing the welcome window the app did crash.
Снимки экрана:
Версия:

Network Radar 2.6.1

Разработчик:

Daniel Diener

Системные требования:

OS X 10.11.5 или более поздняя версия, 64-разрядный процессор

Язык интерфейса:

Английский, Немецкий

Размер:

21.29 MB
Вернуться на предыдущую страницу
Похожие новости
Теги