Glyphs 2.4.3
25.09.2017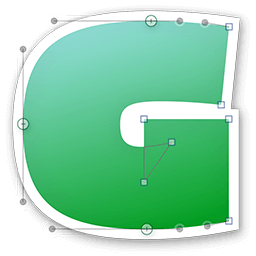 Glyphs - это профессиональный редактор шрифтов для Mac OS X.
Грамотно подобранный шрифт очень сильно может сказаться на восприятии приложения или печатного издания. Слишком резкие переходы в глифах не нравятся глазу при чтении, зато легко подойдут к смелому дизайнерскому решению. Плавные линии подчиняются похожей концепции. Восприятие информации через текст очень важный момент и необходимо максимально точно продумать его. Начинающему каллиграфисту или продвинутому мастеру, работающим в среде OS X, следует взять на вооружение дружелюбный редактор шрифтов Glyphs, позволяющий быстро и педантично реализовать собственные изгибы печатных элементов. Правда, далеко не задаром.
Чем старше мы становимся, тем тяжелее воспринимаются новые интерфейсы. Такая оказия не случится с нашей площадкой для изобретения шрифтов, потому что с первого взгляда она погружает пользователя в свои объятия. Запустил Glyphs — больше ничего, кроме рисования контурных линий делать не получится. Простой интерфейс помогает вам создать новые шрифты, изменять существующие и лепить буквы без проблем.
Основные характеристики:
Редактирование текста в контекстом меню
Только необходимые элементы интерфейса
Хорошая интеграция в операционную систему и подключение к разработке рабочего процесса
Модуль интерфейса для расширения функциональности
Поддержка скриптов
Что нового:
Version 2.4.2:
Показать / Скрыть текст
OTVar and TrueType:
Added support for OTVar-specific tables, including preliminary support for STAT
Only export STAT table if requested with custom parameter (individual axes for some glyphs only)
Added support for virtual OTVar masters
Added optional Axis Location parameter
Updated ttfAutohint to version 1.6
Prevent export TT tables prep, fpgm, cvt if no hinting is in the font
Different decomposition of nested components: now keeps more components in TrueTypes
Improved OTVar export with intermediate origin master
Improved handling of components in OTVar export
Properly export maxSizeOfInstructions in maxp table
Fixed export of TrueType without production names
Fixed missing paths in TrueType export (thanks Christoph)
Reusing Shapes:
Improved handling of corner components: please review your files and report problems
Significantly improved calculation of inner corners
Improved corner alignment
Improved sharp connections in corner components
Improved pasting of caps and corners
Improved calculation of smart components
Improved calculation of corner component between two curve segments
Removing overlap now properly handles corner and cap components
Corner and smart components are now separate groups in Font view
Allow renaming of properties in smart glyphs without loosing settings in components
Better decompose nested and flipped components
Fixed: anchors are properly inserted when decomposing special components
Fixed: scaling of corner components inside scaled components
Fixed: mirroring of alignment when corner component is mirrored
Fixed: copying and pasting of paths with corner components
Fixed: autohinting of components
Fixed: several issues with smart components (interpolation, renaming of axis)
Fixed: shifted components with 'Rename Glyphs'
Metrics:
Metrics keys can now be more complex, e.g., =H*-0.1
Metrics keys: Up and down arrows in number field add to additions and subtractions, e.g., =H+10
Glyph > Update Metrics now also syncs brace and bracket layers
New 'Link Metrics With Master' parameter in Font Info > Masters
Added TSB and BSB to list mode
Improved kerning filter with groups that contain greek and punctuation
Fixed Arabic figure kerning
OpenType Features:
CJK: Preliminary support for vpal and palt features, please test and report
Allow custom mark feature code alongside automatic code, use either "# Automatic Code End" or "# Automatic Code Start" to denote position in auto-calculated code
Properly handle include(); in feature code
Use user-defined coding font size for Feature Editor
Improved detection of oldstyle figures in feature code generator
Improved automatic Devanagari feature code
Make feature pane splitter remember its position (thanks Ben)
Improved handling of custom kern feature code
Better support for manual GPOS and GDEF table
Languages and Localization:
Added Bengali to the Languages sidebar
Added African-Arabic glyphs
Fixed Arabic ccmp code for shadda ligatures (shadda_xxx-ar)
Added some support for Syriac script
Added preliminary support for Adlam script
Improve the Hangul CID mapping file (thanks Norbert)
Some Hangul improvements
Properly scale CJK virtual body
Updated German localization (thanks @yanone)
Fixed some typos in the English UI (Thanks @yanone)
Some GlyphData improvements
Import and Export:
Import more info from OTF
Don't touch custom parameters in ufo.fontinfo (thanks Frederik)
Handling of userData in UFO
Properly round-trip info values in UFO
Fixed reading and storing label color in UFO
Fixed crash on export in macOS 10.9
Fixed export to .otf
Fixed export with glyphs that are not compatible
Fixed problem reading .glyphs file (thanks Fritze)
Fixed import of .ttc files.
Fixed import of feature code with custom mark feature
Fixed import of old suitecase fonts
Scripting:
Largely improved callback registering in Python wrapper
Add mousedown/up notifications (for reporter plugins)
Allow "# MenuTitle:" (with a space) to denote script title (thx @joancarles)
Fixed an issue where a script could cause deadlock during saving
Many small Python API updates, see docu.glyphsapp.com (thx @yanone)
General Improvements:
Boolean path operations can now handle overlapping paths with differing orientations
The state of sidebar panels is now stored
Auto-alignment of 'sinf' and 'subs' letters (thanks Ludwig)
The 'Has Special Layers' smart filter also respects reverse bracket layers
Better font handling for Print-to-PDF in the latest macOS versions (no more garbled text in PDF)
Improved handling of exit/entry anchors in the Anchor menu in grey info box
Improved preview image of current master
Improved 'Reencode Glyphs' custom parameter
Improved SVG table export
Improved tabbing behavior (empty fields)
Improved pasting Illustrator outlines
Fixed: several issues with copying and pasting of glyphs
Fixed: context menu > Autohint properly hooks up hints to nodes
Fixed: vertical resizing and scrolling of Font Info > Notes
Fixed: reinterpolation in Layers panel
Fixed: dragging instances in Font Info does not reorder instances anymore
Fixed: regex replace with period and numbers Find and Replace…
Fixed: upside-down placeholders in glyph selection dialog
Fixed: growing file size with invalid 'userData' keys
Fixed: renamed glyphs (through custom parameter) are now displayed properly in instance preview
Fixed: no more ghost numbers in Measurement tool (L) after overlap removal
Improved stability and performance
Many small fixes and improvements
Процедура установки:
Внимание! У Вас нет прав для просмотра скрытого текста.
Версия:

Glyphs 2.4.3

Разработчик:

Georg Seifert

Системные требования:

OS X 10.8 или более поздняя версия, 64-разрядный процессор

Язык интерфейса:

Русский, Английский, Испанский, Итальянский, Немецкий, Французский и др.

Размер:

20.07 MB
Вернуться на предыдущую страницу
Похожие новости
Теги